What to wear shopping (post Covid-19)
So, it's July 2020, and in the UK the shops have re-opened as the COVID-19 lockdown is lifting. You may have bought a few things on-line, but if you're anything like me you prefer to see things before you buy.
Shopping post-COVID has its restrictions and of course you'll need to wear a mask in a shop from July 24th in the UK.
As the sales are on now – you may want to venture out. Whether you are shopping for a special outfit or going to hit the sales, what you wear when you shop can really pay dividends in saving you time and ensuring you don't get too tired. This is especially true now, so here are my 10 Tops Tips for what to think about when you go shopping.
SHOP WITH A LIST Always…and stick to it to what's on the list
WEAR GREAT UNDERWEAR Regardless of what you are planning to buy everything looks better with the right foundations
WEAR A CAMISOLE or lightweight top – so that you can strip down to try things on in the shop rather than queuing for the changing room.
EASY ON-EASY OFF CLOTHES Make sure your clothes are easy to get on and off – as few zips, buttons and other fastenings as possible. And seperates rather than a dress.
WEAR A CARDIGAN or coat (in the winter) as a top layer that is not too warm – shopping can be hot work.
CHOOSE A SMALL CROSS BODY BAG so that you really look at the (sales) rails and not have to worry about your handbag.
FLAT COMFY SHOES are a must – and ones that you can get on and off easily.
KEEP MAKEUP TO A MINIMUM, especially lipstick. You don't want to mark the clothes that you may buy or even the ones you don't.
CARRY A NAIL FILE in your bag – you don't want to damage clothes by rough edges on your nails.
STAY HYDRATED – have a bottle of water in your bag. De-hydration will make you feel really tired and you will quit more quickly than if your keep sipping water.
You may not like the clothes that I've chosen in the picture for this post. They are just there to show the core idea of what to aim for, for ease and comfort. The tips are in no particular order – they're all quite important. However, when I'm personal shopping with clients, I find that clients rarely shop with a list. It's essential to know before you start what you are looking for. As the saying goes – if you travel without a map you won't reach your destination…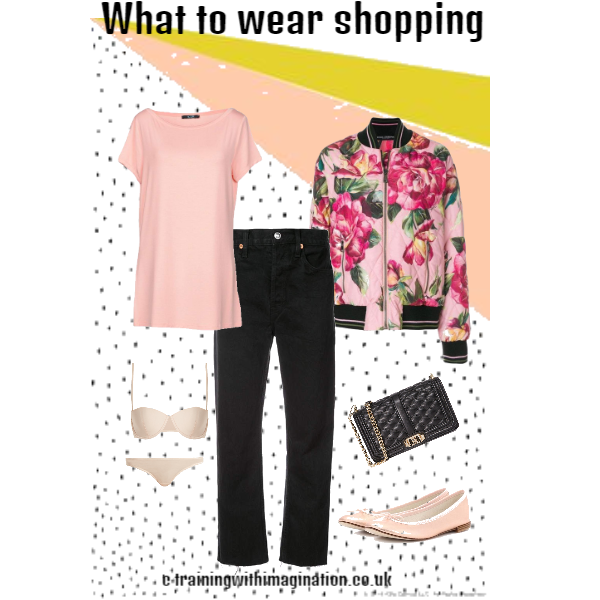 Finally, when sales shopping it's only a bargain if it's something you need to complete your wardrobe, will get a lot of wear from and fulfils a specific need.
It's July 2020 and the sales are on…happy shopping!
PS The Personal Shopping will soon be available again on our sister website here: imaginationonline.info
PPS Want to train as a personal shopper? You can find more information here about our course "How to be a successful Personal Shopper"
Article first published on our sister website imaginationonline.co.uk January 2019
Updated July 2020